Electric Ferrari SF90 Spider – rechargeable, plus turbocharged V8 to stay traditional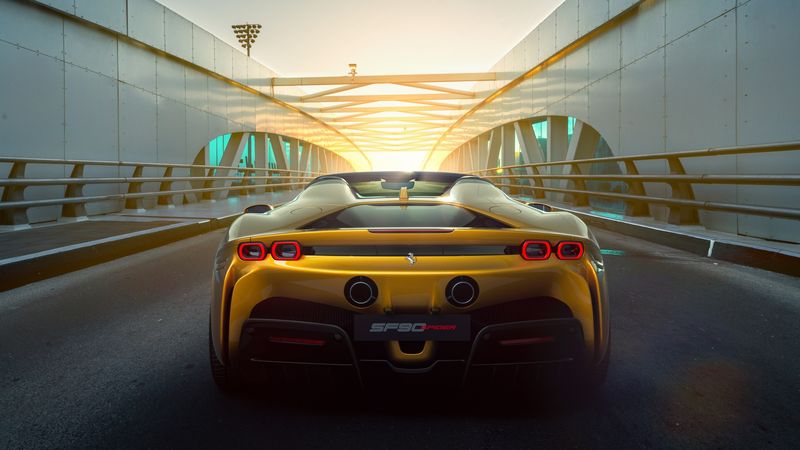 Well, its not fully electric Ferrari yet, but Sf90 Spider does make it first rechargeable Ferrari with hybrid power – made by famous Italian supercar house.
Beautifully sculptured SF90 Spider enjoy power from 986 horsepower, delivered by 769-horsepower, turbocharged eight-cylinder engine plus three electric motors, two at front and one at back for better balancing.
Electric motors are good for 217 horsepower, which helps push the whole car from 0 to 100km/h in only 2.5 seconds. Top speed is not shy 340 km/h, which is much more than most of hybrids or electric car available in shops.
If you decide to drive to Milan shops in heavy traffic, you can us only electric propulsion, which is good for around 25 kilometers. Not much, but enough for shopping trip and back to recharging station.
Beauty of this Ferrari is also drop-top which can be lowered in 14 seconds, moving or stationary. It is also the first Ferrari which will be available with different setting, normal, everyday version – and special sport-centric option which will add a few thrills.
Which every you pick, expect to pay from 473,000 euros or around US$560,000, with deliveries planned for the second quarter of 2021.
Ferrari arrived to EV sports scene with Ferrari SF() Spider and it is a honorable entry, with looks and specs to match. Now, we can just wait to see a fully electric version, which should arrive in the next few years.