Review of Tesla Model S – Or can American electric icon beat the Autobahns and hills of Bavaria
Review of Tesla Model S electric sedan that revolutionized the car industry. Or – my experience of driving Tesla Model S on famous German Autobahns and through corners of hilly highways in beautiful Bavaria. Did famous Model S managed to get a piece of my heart? Especially if I tell you that my daily drive is amazing VW eGolf.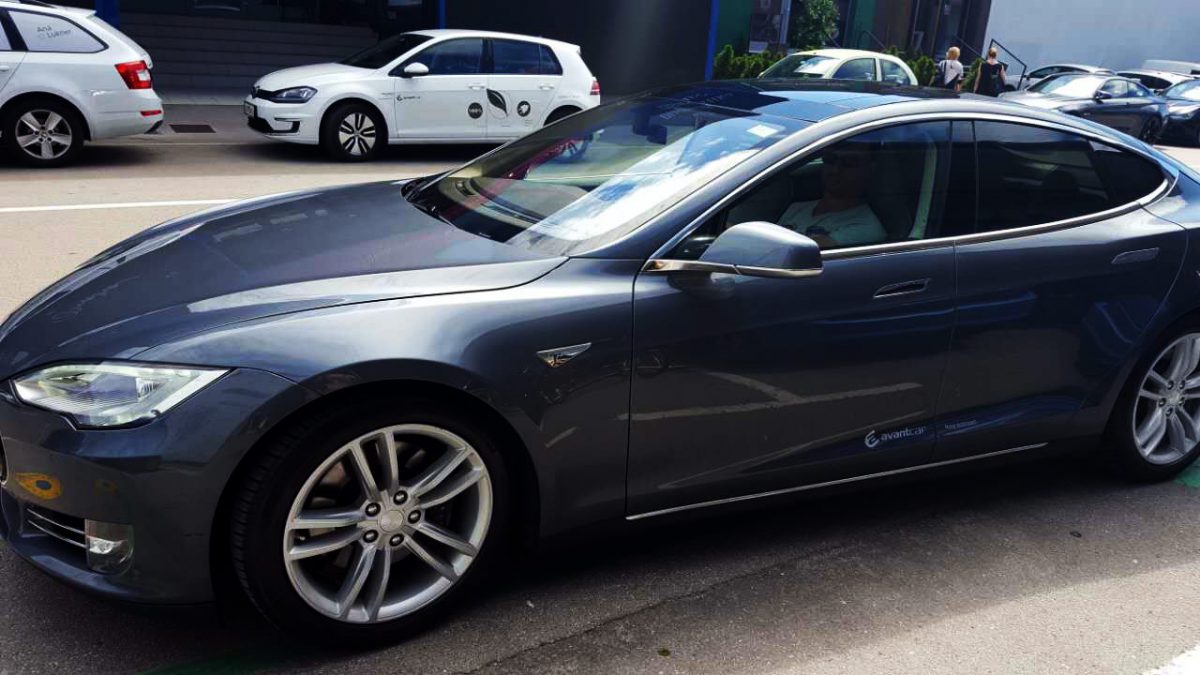 Above: driving off in my new Tesla Model S 85D. In the background you can see my white eGolf, which prove to be better drive, but with much less range. 
Recently I had privilege to drive into the temple of motoring. No, not Detroit. The original home – Bavaria. Land of BWM, Mercedes, Porsche and VW. Land where motoring industry started and pretty much still ruling the road with German precision. But when I show up for my meeting – I was not in any of Bavarian prides. I was in – Tesla Model S.
Few thousands of miles. Few grey days with occasional storm. Few highways curving through hills around Germany and Austria. Stretch of German Autobahn – famous motorways without any speed limit. One driver. One car. Tesla Model S. And me.
I won't bore you with many of classic numbers. Model S have all bells and whistles, including some extras such as famous Autopilot. Which I avoided using as I prefer to drive myself. Model S can recharge in to 90% full and deliver punchy . For more technical details you can click here and visit Tesla website and Model S main page.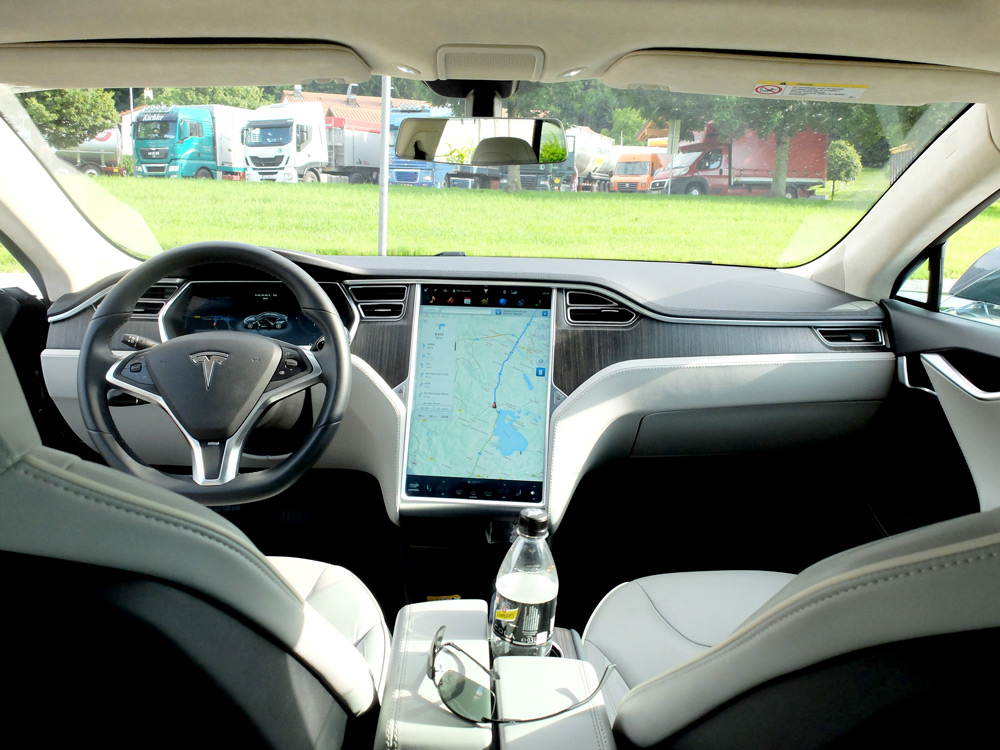 Did I enjoy Model S?
Sure. Tesla is well built car and very composed on road. Acceleration is well balanced and you can feel power and control at your hand. But it's not as exciting as I would like to be. I drive 'drivers' cars. Usually well balanced, sporty cars and love taking them to curvy mountain roads. Before I settle for my eGolf (which is superbly balanced and fast but lack decent range) – I drove Renault RS265. No, not Porsche. But "fastest front-wheel drive production car in the world". Yes, if you Google-it that stands for RS265 which is small French hot-hatch. Great balanced. 5 seats. 265 bhp turbocharged 2 liter engine. Recaro… ok, the rest read at my full review of Renault RS 265 and race against Porsche in Spain. But you – got it – I love well balanced, fast cars. Ultimately Tesla is not that. It's well composed on road, but give you a bit of body roll, just enough that you cannot relax and just slam it down the parabolas. You can in eGolf, you can in RS265, or Mazda MX5, my other favorite ride. Model S is at the end big, comfortable, futuristic family car. It's great to drive. But it's not exciting. And let me mentioned that I drove sports version with adaptive suspension. For difference of other hot hatches and convertibles I mentioned, you have, much, much more room. And you are feel guilty-free gliding on electricity alone. But you have first to check if local power come from renewable sources. Unfortunately Montenegro does not have any Tesla Superchargers – even that 90% of energy in the country come from pure renewable water powered electric plants due to big mountain ranges and fast rivers cutting through.
Did I feel comfortable in Tesla?
Yes. Seats are great. Controls are well organized and car is nicely behaved. Still some perks from big Bavarian brothers are missing. Central console is empty box. Only two cup holders in armrest between driver and co-driver. And if you place your coffee and water there, you don't have where to rest your elbow while cursing. There is no storage in door and no-one other useful in reach of driver. And when I wished to open sunroof a bit more, I had to go through touch screen which took my eyes form the road for a bit too long. I think there should really be a voice command for opening a sunroof. Driver position, seats and basic control are great. But lack some interior design for which reason still feel as sitting in a concept car. I hope Model 3 will get over it and fulfill the purpose of being a well-organized family car.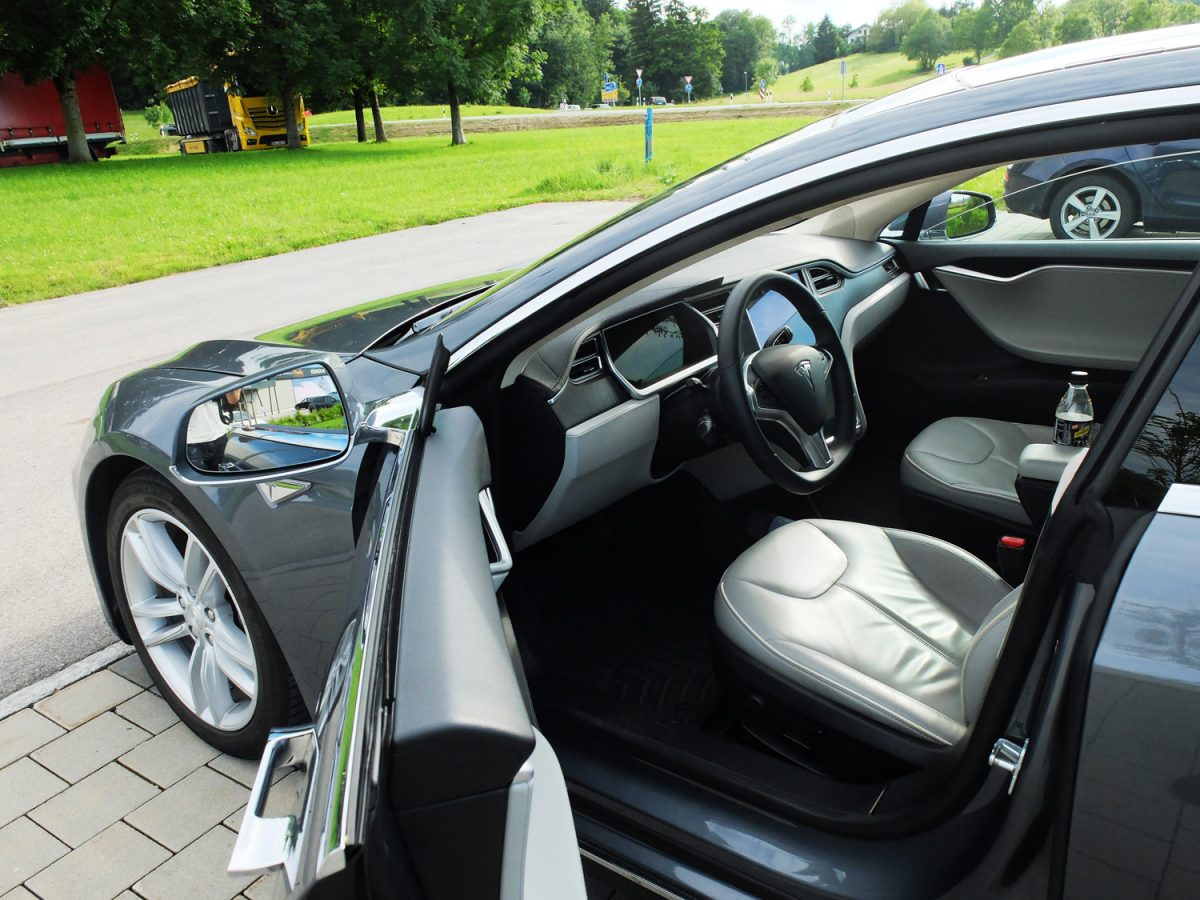 No lunch for me. Yes for Tesla. There is some strange thing in mid Europe. They do NOT serve any sizable meal between 3pm and 5pm. You can have cake and coffee. Sausages with potatoes and cabbage? Nah. Wait till 5pm for kitchen to open. So my friends – you if find yourself in these valleys – eat at lunchtime. Otherwise while your electric Tesla is silent – your stomach will growl. Mine did. And it was easy to find Supercharger, plenty of them and usually over 70% free and available. All neatly placed close to restaurants where you can fill yourself too. But please, don't wait till 3pm pass.
Anyway it was not a trouble to recharge and it was actually fun meeting few other Tesla Model S owners around Germany and Austria. Usually business people who had a bit of chat with me in very well spoken English. My German was stuck at 'lunch please'. Europeans love electric cars. Especially North Europeans. Sales of VW eGolf are extremely high in Scandinavia and oversell many other models and cars. Mid Europe, there is a lot of Nissan Leaf drivers. Mostly family people conscious about environment. Then comes Model S and Model X driver, usually more wealthy professionals. As you go South eGolf start to fade. Unfortunately as it's really a great electric car – but more about it you can read in my full review of long-term ownership of VW eGolf.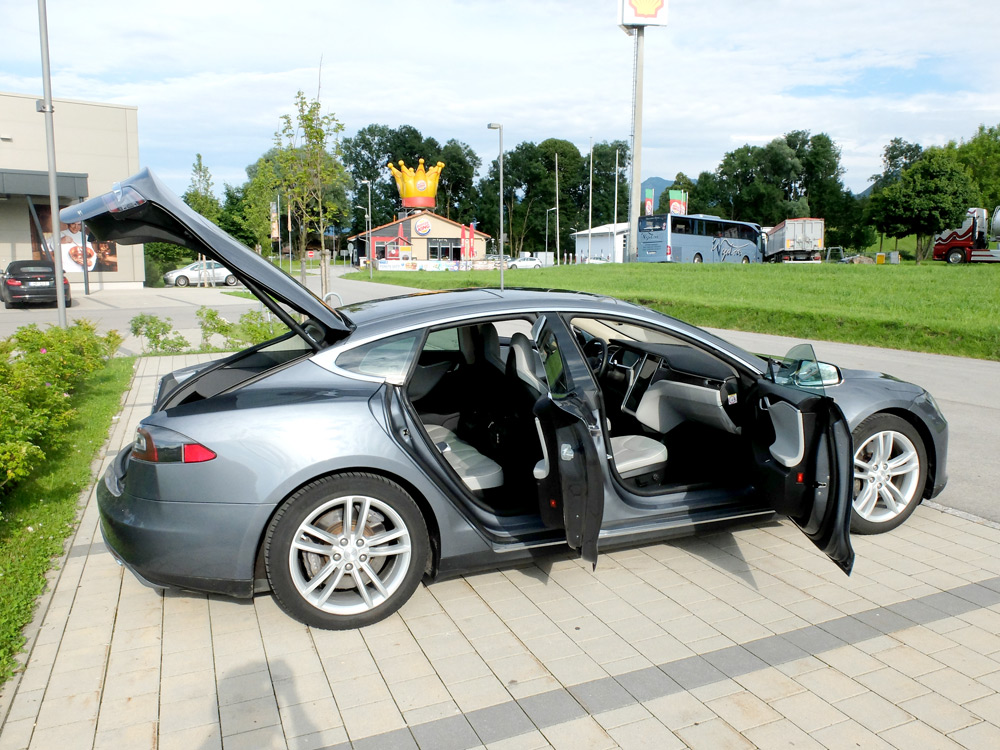 Any status feel in American electric car icon?
For sure Tesla and Model S are now worldwide accepted as mass production family sedan that revolutionized the industry and brought electric cars back to life. Let's not forget that first car Ferdinand Porsche built was an electric model E01. So, really Bavaria is root of electric cars, but unfortunately they got into long lasting lust for petrol too. Finally now, you can again enjoy Porsche in pure electric form – at marvelous SHX and upcoming Model E. Rolling down the Bavarian streets and motorways in American electric icon is a bit of perk, as you do feel bit special. Yes, they have plug-in hybrids now, and even few fully electric models, but you are rolling in an icon. The one that started it all. And you still feel faster and more luxurious than most of similar Bavarian models.
I have to admit I did feel well rolling my Tesla around streets of Munich, Bavaria, Germany and Austria. It does give you some special feeling when you are in American Icon silently overtaking big Bavarian BMWs and Benzs. Looking at exhaust pipe where their big V6 and V8 pollution-supporting-engines . It does make you feel proud that you are not in that club. If you ever come to Bavaria – driving Tesla is a good choice.
Verdict.
Tesla Model S? Great family cruiser that will get you almost anywhere with amazing zippy-floating feel. But it will not excite you as some German brothers. I guess I have to wait on Model 3 or New Tesla Roadster and come back to hills of Bavaria. I just have to remember to recharge before 2pm and grab some amazing sausages while kitchen is still open.
Let's go to the next step Elon. I'll wait.