VW eGolf Review – Our long-term test prove why eGolf is the best selling EV in Europe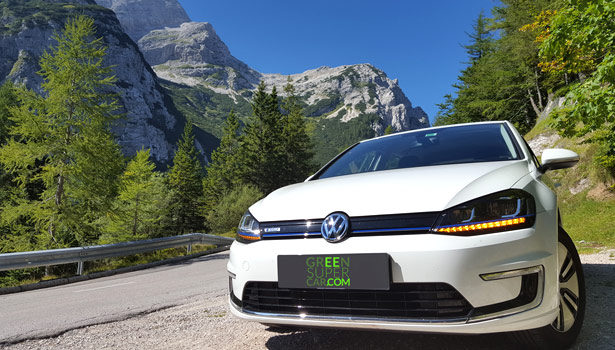 We had a blast! 6-months with German version of VW eGolf. Our opinion? This is the car you want to drive. If you live in city, that is. Range and motorway driving are still out of reach for eGolf.
What surprised me the most, is agility and excitement, involvement of drive with eGolf. I previously drove tesla Model S and I can tell you this is much, much better handing car. If you love twisty roads and sportscars, but want EV, this is it.
Acceleration from 0 100 is 7.6 seconds, which does not sound too much, but feel much faster. Especially in city as car is light and it will lift you off on traffic light. You will feel blazing fast. Golf EK7 chassis is great. 320 kg battery pack stick to the floor behind rear seat give it even better grip and kind of heavy back of car which allow for happy sporty feel in tail. We drove VW eGolf through twisty mountain roads of Germany and Austria and I can tell you, you want to be in this car. Range is over 200 km for 2017 model and in our 6-months testing we didn't run out of electricity once, even taking it deep into mountains and hills of Bavaria.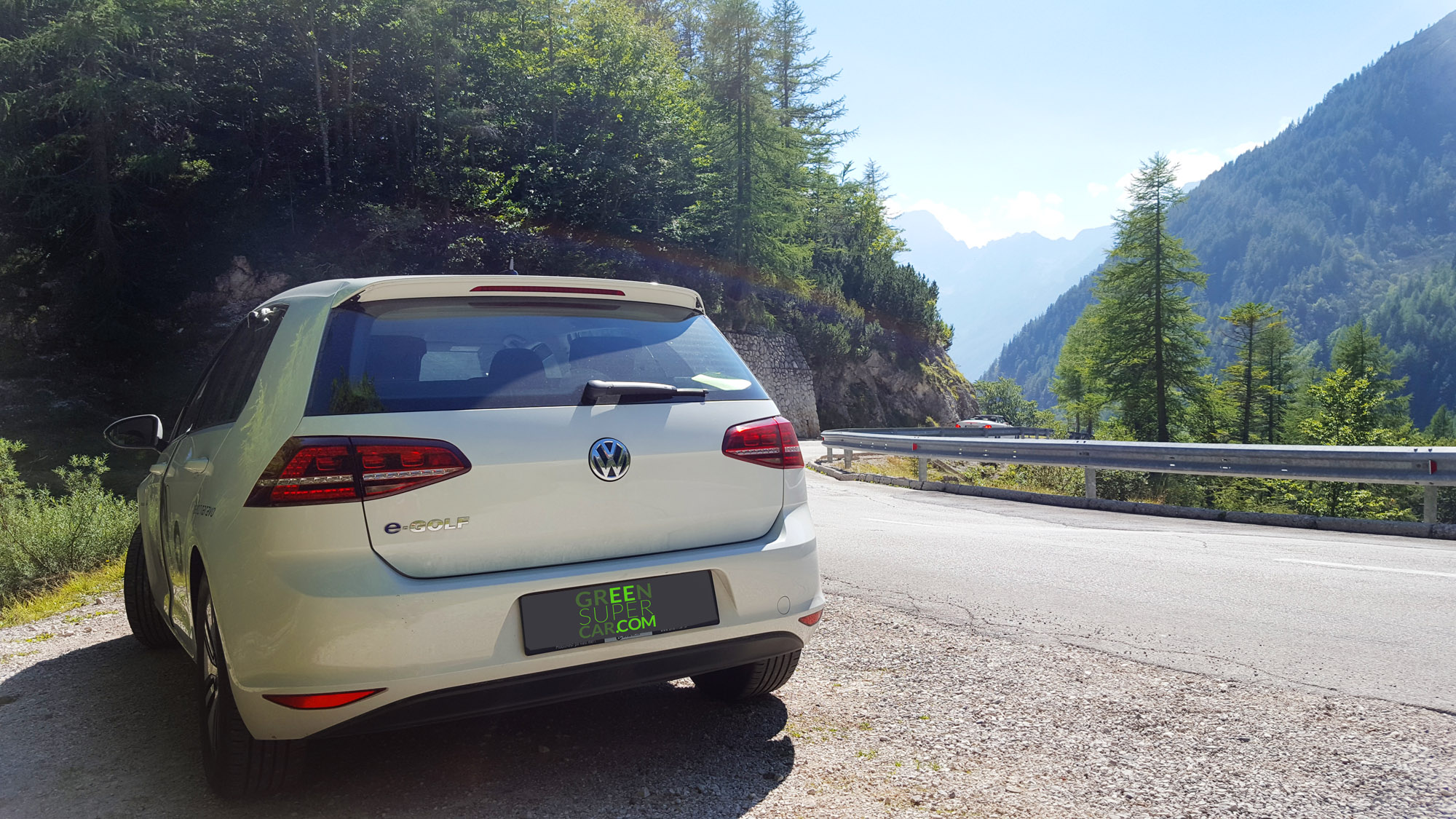 Build quality is best till now in any VW by my option. Everything is ergonomic position and well made. There is no rattling and cockpit in nicely and comfortable laid out. From extra electronics, you get battery management that allow you to monitor your driving and eco friendliness. Inbuilt GPS comes with easy to find chargers preloaded and map showing eGolf range in eco or power mode. Regenerative breaking comes with 3 steps, which you can manually set how hard car should break, allowing for EV-specific 1-pdeal driving in full B mode. D mode brings normal. Everything else is well done as on normal Golf and car is very comfortable with enough space for passengers and generous boot. Practically is great, with many storage spaces and cup holders – something I really missed in Tesla Model S.
Now, downsides. Range. In realistic conditions range is justa round 130-140km. Charging is fast enough with 55kw fast charger that you can find around restaurants and big shops such as IKEA, it will take only around 30 minutes to charge to 80%. With around 40-50 minutes to fully charge once you are under 10% left. Problem is speed. Once you hit motorway and speeds over 130km/h you will start thinking that your battery leaking. I bout you can do more than 90km on motorway. Which is hardly enough to search next big city. So you really have to plan your trip. Unfortunately you cannot use Tesla Supercharger network that start growing around Europe. But there are plenty of chargers from local German and Austrian providers, just check which card you need to start charging.
When full recharged car will show range of 195km – at least that was the most I seen. Enough for daily commute and weekend drives. Expect normal driving mode, there is ECO, which limit power to 90% and speed to maximum 130km.h. And ECO PLUS which go further limiting power to 70% and speed to under 100 km/h. Which I never used. By my experience, you can always keep in normal mode, enjoy great driving experience and when you reach only 30km in range car will switch itself to ECO mode.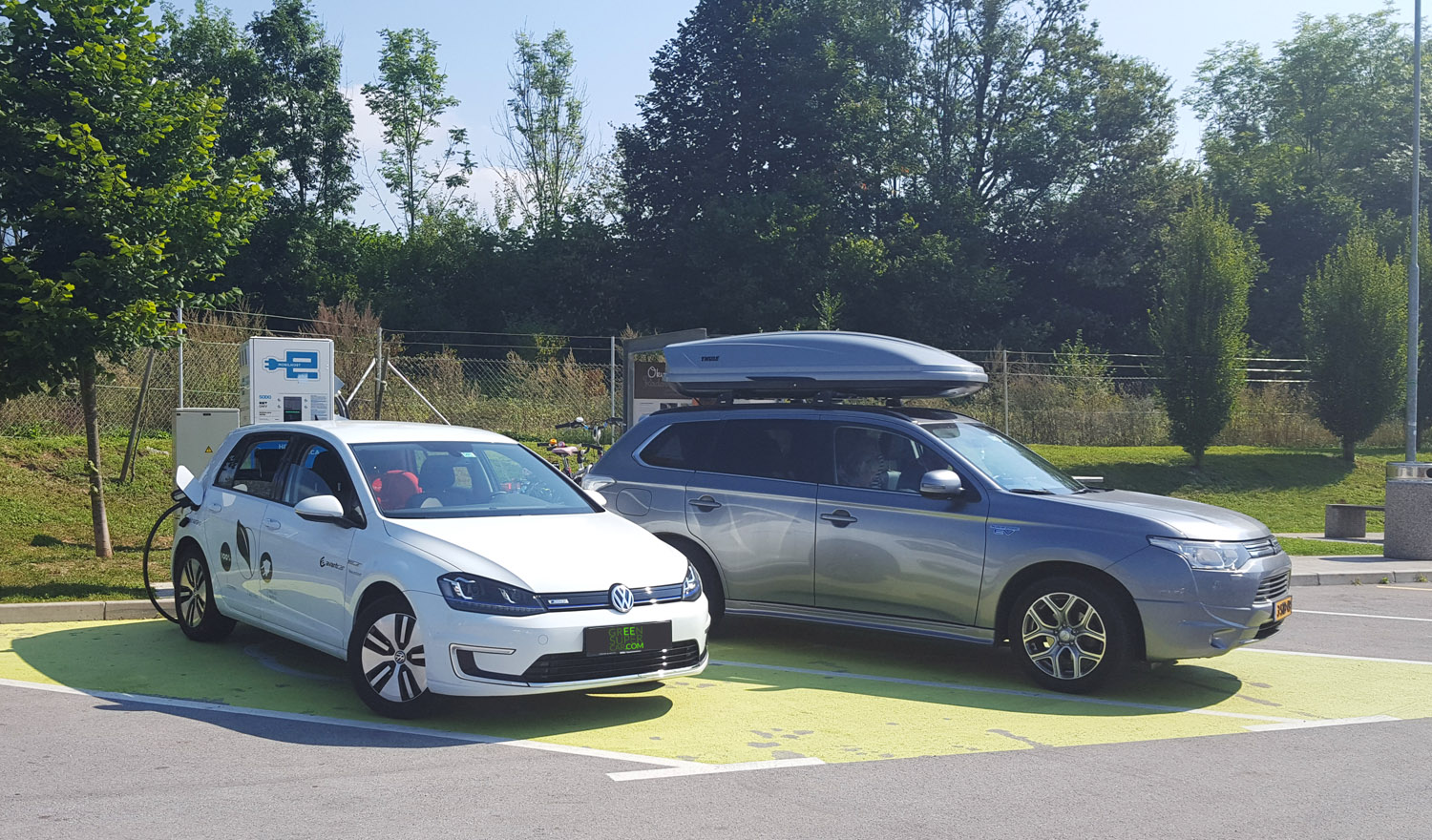 How often did I recharge? In normal commute, dropping kids to school, drive to work and in evening to dinner in city, on every 3 to 4 days. I don't like to risk, so I would recharge when at 70 or 80% of battery is used, never left under 30-40km, just in case of some unexpected event. Usually, if I had work report to read, I would take it with me, drive to local McDonalds that had fast-charging just across the road, and while I sip on milkshake and finish with my report, car will be full. I have to mention, I never knew McDonalds in Germany are so good, especially milkshakes and ice creams. I never plugged car at home and each time I would took trip around, hotel would secure me spot where I could plug my car and recharge overnight. On normal 220V power charging, I have to admit its bit slow, like really whole night, so I always prefer finding fast charger if possible. My wife didn't like traveling in eGolf, she preferred Tesla due to range and fancy looks, but I like eGolf more. I find it much better handling car, more exciting and practical to drive. Model S only had better seats. On my trips I would avoid motorways, taking country roads, which was much more interesting to travel and exciting with some good curves. Also I have to admit, that with lot of hills and keeping car at B, regenerative mode, it works very well and I manage to get good range on country roads. Of course taking country roads and stops to recharge on every 200km is not fast way to travel, but it is pleasurable and fun. I also immensely enjoyed chatting with other electric car drivers, which all spoke English well and had interesting stories. Almost felt like we are part of unique club of nice mannered, friendly people. Never had an experience like that while recharging my sports car at gas station.
eGolf is really a city car. Quick, small enough to park well, elegant and pleasure to drive, good range for city driving. And with that handing and jump when you step on pedal, you will feel like there are not many cars on streets that can be faster than you. But – you don't use any fossil fuels. You glide on renewable source of energy (of course depends where you charge).
VW e-Golf conclusion of ours. Build quality and comfort of drive is excellent. Driving is exciting and engaging. Range is disappointing for longer trips, but enough for city commute and weekend trips. Price tag staring from $35,000 is acceptable. VW e-Golf would be great choice for corporate fleet. Or the perfect choice for second car if you already own fossil-based car for long holiday trips.
We are really looking forward to next generation of eGOlf, considering that this first, just converting normal VW Golf into electric drive prove to be excellent car by Volkswagen. No surprise that VW eGolf is the bestselling electric car in Finland, outselling Tesla Model S and Nissan Leaf.
What's next? Waiting for the news from Mr. Wolfgang Kranc, Director of Electric Drive for VW Group. Can VW eGolf be a Tesla Model 3 killer? With bigger battery could be. Of course I still have to drive Tesla Model 3 to make my decision,but I found eGolfto be a great EV city car.