Opinion – Can Chinese manufacturer dominate on the Global electric car market? Yes, here's how.
Can Chinese cars dominate global markets? Enter Chinese dream-team that could keep all automotive executives, from Germany to USA, wake at night.
Let's start with Jaguar. It's not Chinese brand neither player in this case, but fits perfectly as intro for this story. In 2016. Jaguar achieve massive increase in sales in USA market, whopping 116%. Not many manufacturers can show similar numbers. Jaguar executed two things masterfully well. First, targeted Luxury SUV market, the fastest growing segment, with beautifully built Jaguar F-Pace. Musculature presentation, excellent handing and luxury indulgence. They also manage to start from only $45,000 which allow SUV buyers to enter into luxury market for very low price tag. And own piece of British heritage brand. And this is where second point come in.
Jaguar was not as cool brand just 10 years ago. It was associated with older drivers who want to glide around in their "gentlemen express" from golf club to board meeting. In with wonderful overhaul of design language and intuitive engineering, Jaguar cars become much more aggressive, driving enthusiast focused – and also more daring, connecting to young audience. Jaguar start manufacturing smaller sedans, still luxury and great drives, but it's more entry price into luxury. They marketing team also connected to millennials, working with icons of new generation such as LA diva Lana Del Ray. All this created perception that Jaguar is desirable, elegant, exciting and luxury ride – which you can afford. And this perception – become reality.
Let's move back to China. Do we have player in SUV market that could challenge global market? Stand next to Range Rover and Jaguar-alike. Great Wall. If you are westerner, you maybe never heard of them but Great Wall is manufacturer of bestselling SUV's in China. Their brand Haval exports in such markets, as Africa, Eastern Europe and Australia. They have engineering expertise, manufacturing processes in place and experience to mass produce SUVs. There are questions about reliability and safety, but that's not the biggest issues. Issue is brand. Would you buy Haval by Great Wall. Hmmmm. Right. Not many Western buyers will make decisions like this, even if price is right.
But can we find Chinese Motoring brand that can successfully sell to Western markets. Not till now. And all brand that currently plan to sell in USA, and there are few, will have big struggle. Special with branding and understanding of custom emotions. Customer perception of buying Chinese made car.
But if you are motoring enthusiast, like myself, and you are evangelist for electric cars or sports cars, you indeed know for Chinese brand that made very positive waves. NIO, or NextEV.
NextEV NIO P9 is the fastest electric car in production today. NextEV prove this by taking NIO P9 on famous Nurburgring Nordische track and achieve record time on 7 minutes and 56 seconds a lap. And few weeks ago, their fully autonomous version of NIP P9 drove itself full lap at over 200kmh. What is our perception of NextEV? Its company that produce environment friends, exciting to drive, extremely fast, technologically advanced and beautifully modeled cars. Its sounds like all you could ever want form car. Would you buy NextEV? Yes, where do I sign?!?
Well, there is this thing, called production. Same things that Tesla struggle with for years and even now pose danger to take famous car manufacturer into grave (but it won't, Elon is too good). Mass production. It's not easy to master it, especially for new company. And if you want to be competitive in current market – you better make SUV.
Expert in mass production of SUVs? Company with desirable badge and technology we all want? Great Wall. NExtEV. GreatEV?
Where do I sign?
OK, without joke about 'GreatEV', collaboration at which Great Wall would manufacture electric or PHEV plugin-in electric SUV under the NextEV badge and with expertise and design from NextEV team, would produce the killer car. They may say well call it – The One. Dominator.
This joint venture of two Chinese motoring companies, each masterful in its own way, would produce vehicles that would dominate global markets. First build monopoly over the fastest growing, most profitable and most appealing segment of PHEV SUV's. And that any other segment they would like. Its' that simple.
Can Chinese manufacturer dominate on the Global electric car market? Yes. In theory. But as it was always claimed for Communism, in theory is great idea, but ti does not work in practice. We will see if NIO, NextEV, Great Wall or Wey start with collaboration. I hope they do as it will benefit global development and acceleration of global electric vehicle market.
And if they call it GreatEV, I want some royalties.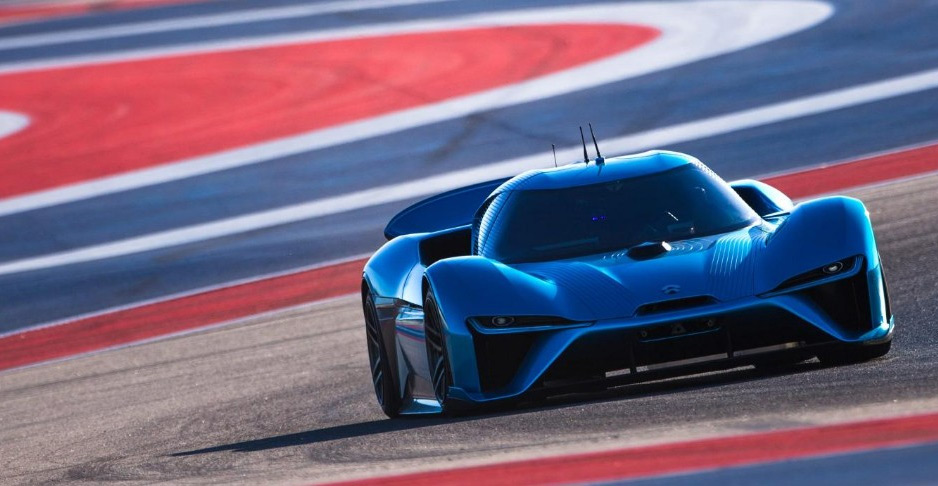 Above: Beautiful and crazy fast NextEV NIO P9.